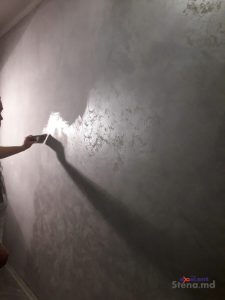 Decorative interior paint is getting more and more popular among various finishing materials for the decor of walls. And this is quite fair as not only does this plastic material have a reasonable price, but it is also really advantageous for numerous reasons. With the help of decorative interior paints, you will easily be able to create a really unique decorative effect on your walls. The material looks rich and dignified.
Besides decorative functions the material also stands out for its simplicity of application, easy care, durability and long service life.
Advantages of decorative paint:
-Universality and simplicity;
-The resulting surface becomes wear-resistant and durable, with the colours preserving their initial brilliance and attractiveness for the whole period of exploitation;
-It is environmentally friendly (is diluted with water);
-Beautiful result.
Decorative paints "Luceafărul" and "Barhan" are transparent paints with silver, pearly or pinkish-nacreous nuance. They are applied onto a ready painted background.
It is essential to competently combine the background with the tone of the decorative paint "Luceafărul" or "Barhan". For example, Silver tone will look harmonious on the surfaces, painted in cold colours: light blue, blue, white, violet, green. Perla tone will perfectly match warm nuances of brown and yellow as well as black colour. It is not recommended to apply Perla onto a pink background. Rosso tone is unique since it opens up better on grey, violet or pink backgrounds.
Sale!

Decorative finishing based on multi-colored flocks Cupaj DeLux.

Sale!

"Barhan" is a high-grade wear-resistant material with a pronounced trick of the light and shadow. It is produced in 3 colour bases: SILVER, PERLA, ROSSO. For an additional effect Silver base can be tinted with a color for water-based paints. "Barhan" decorative paint is a transparent paint with silver, pearly or pinkish-nacreous nuance. It is applied onto a ready painted…

Sale!

"Luceafărul" is a high-grade wear-resistant material with a pronounced trick of the light and shadow. It is produced in 3 colour bases: SILVER, PERLA, ROSSO. For an additional effect Silver base can be tinted with a color for water-based paints. "Luceafărul" decorative paint is a transparent paint with silver, pearly or pinkish-nacreous nuance. It is applied onto a ready painted background. The…